Heat pump installations, services & products
If you're looking for a reliable and cost-effective way to heat your home or business, contact CPR today. We'll be happy to discuss your individual needs and provide you with a free quote.
Which heat pump is right for me?
Every household has different needs, that's why choosing the right heat pump is so important for your family's comfort. CPR Refrigeration and Air Conditioning fully assess your space and select the right heat pump based on what your home needs.
Installing and maintaining heat pumps and air conditioners to our high standards, we have solutions for any home or office heating or cooling needs.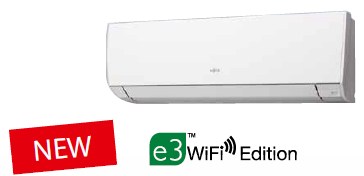 Wall Mounted
State-of-the-art technology. Compact, quiet mode inside and outside, human sensor for added power savings, advanced healthy air filters, more world first features.
Brilliant Energy Efficiency
The e3 R32 Thermodynamic System can deliver higher energy efficiency. Even more energy savings can be achieved with Fujitsu's twin rotary DC compressor, DC Inverter control and DC fan motor technologies.
The ASTG09KMCA has achieved a "STAR RATING" of 5.0 for both heating and cooling.
Other higher capacity models in this range have also achieved superior high energy efficiency.
Human sensor control
When movement is not detected the energy save mode activates, and the capacity is reduced until the sensor detects human movement again.
Human sensor's coverage
Human presence is detected in the room accurately by pyroelectric infrared sensor, which has a range 6 metres, between 90 degrees vertically and 100 degrees horizontally.
Power diffuser
The diffuser operated automatically to match the heating or cooling mode. The result is faster, more efficient comfort.
Healthy air filters
Fujitsu's advanced filter systems contribute to a fresher, cleaner and healthier living environment.
Better control
This smart, very thin and easy-to-use remote has a large LCD display and a one-touch button.
There are many new, unique features.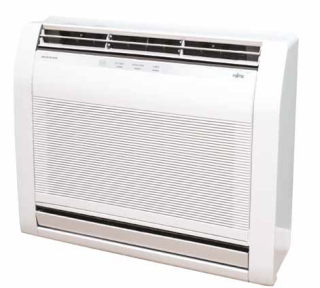 Floor Consoles
The Fujitsu compact floor consoles are engineered to deliver up to 5kW of heat in a smart yet very efficient package, with many added features.
Very compact
This discreetly designed heat pump will compliment any home décor and can replace the old 'night storage' or other bulky heaters.
Dual fans
The twin fan operation gives you complete control. Use both fans to heat your room fast and efficiently, then switch to the top fan only to maintain your perfect temperature quietly and effortlessly.
Healthy air filters
Fujitsu's advanced filter systems contribute to a fresher, cleaner and healthier living environment.
A fresher home
The long life deodorisation filter absorbs and reduces common household odours including kitchen and pet smells.
10°C hold temperature
Your compact floor console can be set to never go below 10°C, so your room will never get too cold, wherever you live in NZ.
Super quiet
An industry leader in quietness, with a quiet mode of only 22 decibels – that's quieter than a soft human whisper.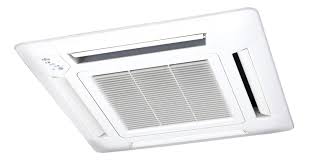 Cassettes
The cassette models sit in the ceiling, so they are almost invisible. But you'll feel the difference, with 4-way air distribution (which can be configured to suit your room), and turbo fan technology which will heat (or cool and dehumidify in summer) the whole room quickly and efficiently.
3 or 4 way air distribution
With 4-way air distribution, strong airflow and quick temperature change is realised when the indoor unit is placed at the centre of the room.
If the indoor unit is to be located adjacent to a wall, an optional 3-way air outlet configuration can be made to ensure optimum airflow into the same room is maintained.
Wall controller – UTB-TUD (optional)
The easy-to-use wall controller is a very popular added extra as it gives you the option of a 7 day programmable timer – meaning you can 'set and forget', for both convenience and more energy savings. It also includes fantastic features such as:
Weekly timer (2 x start and 2 x stop settings per day)
Temperature set back timer enabling different night and daytime temperatures
Variable timer set-up
Child lock
Filter maintenance display
Air flow
Air reaches whole room with ceilings of up to 3.0m
Invisible comfort
The compact cassette fits inside the ceiling, with only the grill showing. They deliver high capacity heating, quietly and efficiently.
Compact outside units
Fujitsu's outside units set the industry standard for compact design, yet still deliver all the power required, with efficient airflow design that reduces operation noise.
Blue fin heat exchanger
65% of Kiwis live within reach of salt laden air. That's why Fujitsu's outside heat exchange units are coated with a blue corrosion resistant material to enhance durability and help extend the performance life of your heat pump.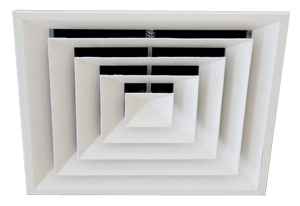 Ducted
Our ducted systems are the ultimate in comfort, creating the perfect even temperature throughout your home at the touch of a button. They enhance your home lifestyle and because the indoor unit is totally concealed, usually within a ceiling void, they deliver heating and cooling that's a beautiful experience, and yet virtually invisible.
Effortless performance
High capacity and compact DC engineering coupled with advanced Inverter systems can handle greater temperature extremes than conventional heat pumps. This means your Fujitsu system will be economical and capable of reaching your desired temperature faster.
Your Fujitsu system will deliver fast and effective heat, even if it ever gets to -15˚C outside.
Economy Operation
Limits the maximum operation current, cutting power consumption and suppressing the maximum load.
Smart, simple and easy-to-use controllers
The controller allows you to set your desired temperature, choose energy saving and other modes, and set timers for the system to start and stop automatically at the times you choose.
The wall controller has been designed to make operation and timer setting easy.
The left side of the controller and LCD display is for setting up timer options, the right side is how to set the ducted system to operate.
The handy green LED above the Start / Stop button clearly indicates that the system is On (when the LED is lit) or Off (when the LED is not lit).
Program Timer Options
Once the clock has been set up on the controller it is then possible to set up selectable timer program options.
ON Timer – This is a countdown timer to turn the heat pump on when the time has elapsed
OFF Timer – This is a countdown timer to turn the heat pump off when the time has elapsed
Weekly Timer – A simple 5 step process which allows easy set up for each day of the week, with the ability to select 2 on and off settings per day
Temperature Set-Back Timer – Used in conjunction with other timer settings, this allows for the temperature to be changed during the ON time period.
Auto Restart and Memory Back-Up
In the event of a power failure all Fujitsu Inverter ducted models will restart themselves from the last settings of the wall controller. The programmes and timer settings are kept in memory. (This needs to be set up on the wall controller by the installer.)
Child Lock Function
Simply pressing a sequence of buttons on the wired remote controller locks and unlocks the keypad, stopping accidental and unauthorised use.
Heat Pump Installation &
Servicing Experts
Air conditioning for residential & commercial
Expert advice
Customised solutions for your home
The best products
Fujitsu Accredited